I invite you to consider acupressure treatments as part of your transformation journey
Here are some options to go further – and then some thoughts about transformations and Jin Shin Jyutsu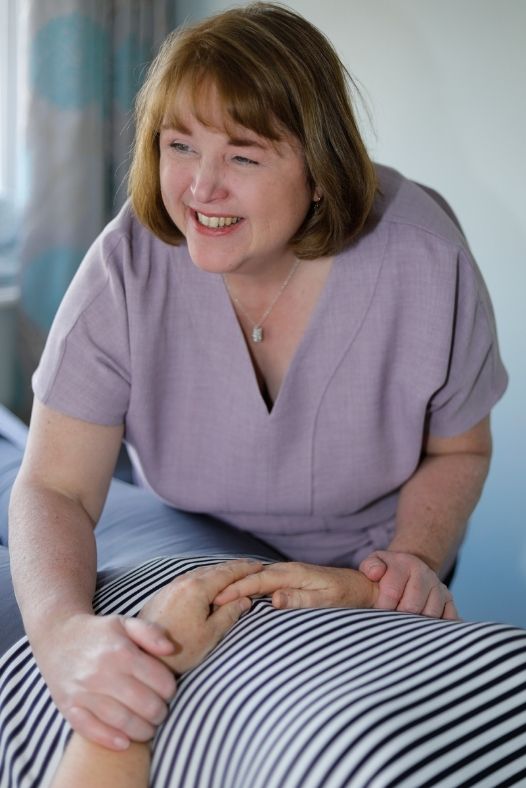 These sessions are your calm oasis.
Imagine an hour where you can just relax, rest and rejuvenate.
Lying on a comfortable padded table, under a soft fluffy blanket – and you receive the benefits of Jin Shin Jyutsu – a light touch therapy that uses the energetic meridians from traditional Eastern medicine to help you feel better.
Your calm oasis – right in the comfort of your own home.
You can access the benefits of Jin Shin Jyutsu wherever you live in the world. Imagine an hour where you can just relax, rest, and rejuvenate.
You rest comfortably on your favorite couch or maybe even your bed. You can even have your favorite pet with you. As you rest, you receive the benefits of Jin Shin Jyutsu – the light touch therapy that uses the energetic meridians from traditional Eastern medicine to help you feel better.
You know how to help yourself feel better – here's another tool for your self-care box. You can learn easy simple holds to transform your life.
You have the same calm oasis as with a session – and the added benefit of learning holds and sequences to help yourself.
Add some JSJ into your life.
We all know things we can do to help ourselves stay flexible, reduce our pain, and feel better.
You can learn simple self-care hand holds that you can do anytime, anywhere. This workshop includes a meditation that will soothe, relax, and renew you.
Let's come together to share our experience, our tips for feeling better, and have a bit of fun too!
Some thoughts about transformations and JSJ (Jin Shin Jyutsu)
From the beginning
You've gone through life building experiences, wisdom, and learning new ways to do things. It starts when we're very small with simple things like learning to walk – this allows us to explore the world. We learn to communicate with others and ourselves – this allows us to share our lives with others. We learn how to move about in the world – and this allows us to experience all the joys, beauty, and wonderful opportunities available to us.
Stumbling blocks
We also have opportunities that may be a bit more challenging. We can learn ways of being that aren't so comfortable and don't nourish our soul. We may even carry baggage that gets in the way of showing up fully. This baggage can show up in physical discomforts and projects, in emotional challenges, and in mental clutter that draws our attention away from what we really need to be well in our lives.
Trying new things
In this transformation journey, you may have reached a point where you are willing to try new things – often this happens when things become to painful or difficult to carry on as before. Sometimes, we are called to listen to our needs when they are still just a whisper – a niggling worry about our health – or even just a sense that things could be better.
Transformation through Jin Shin Jyutsu
On one level, this art – with the foreign sounding name of Jin Shin Jyutsu – addresses our physical bodies and how they are (or aren't) working well for us. We have energetic pathways in our bodies that are most commonly known as the meridians from traditional Chinese medicine. Each of these meridians has specific functions and relationships governing different aspects of our being.
On another level, this art resonates more deeply with our emotions or attitudes and the way that we think. These same energetic pathways can be compromised when aren't in balance, when our energy is in disharmony. There is a relationship between our attitudes and our physical well being. And these both link to how the energy is flowing through our bodies.
You can transform how you are in the world.
Your body can feel different – even if there are longstanding challenges.
Your emotions can be different – even when it might seem hopeless.
Your general sense of well-being can improve – even if you don't see how at the moment.
Your connection with the cosmic energy can strengthen – even if this seems distant now.
You have been guided to this place.
Will you take the next step?
I invite you to join me and to explore how Jin Shin Jyutsu can make a difference in your life. You can experience this in which ever way speaks to you currently:
In all cases, I am honoured to share this part of your journey. I offer your my experience as a Jin Shin Jyutsu practitioner as well as the wisdom that has been shared with me by my teachers and the original wisdom the ancient texts in Japan, and the learnings from the founders Jiro Murai and Mary Burmeister.
I have great faith that you can feel better, have more vitality, and reconnect with your joy and serenity. I love sharing the bliss of Jin Shin Jyutsu with my clients. I adhere to the Code of Conduct of Jin Shin Jyutsu Inc. and the ARCHTI (Association of Registered Complementary Health Therapists of Ireland).